With 9flats.com, the alternative to hotels, you will find a variety of affordable vacation rentals offered by individuals around the world.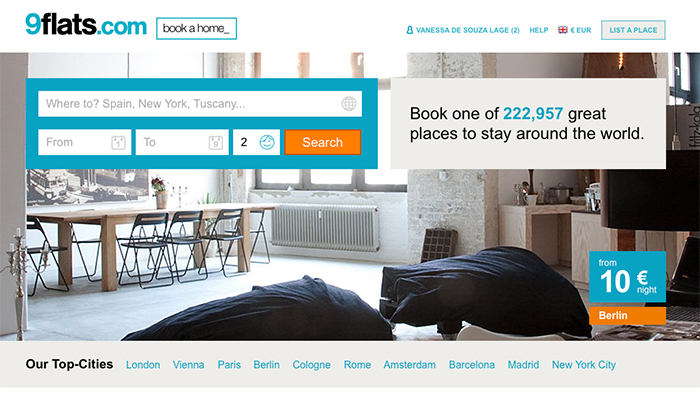 Who are they?
Choose from over 200,000 locations, which include vacation apartments and rentals of all types. Whether you want a romantic apartment in Rome, a loft in the center of New York City or a chic guest house in Berlin, you'll find the perfect place to stay when you book through 9flats.com.

Discover the world through the eyes of the local residents, while traveling in comfort and staying in prime locations that won´t break the bank. 9flats.com is transforming the world of travel by offering unique vacation rentals and apartments personally rented out by the owner.
What is synched?
Bookings
calendars
Prices
Photos
property info
Accepts rentals in
Worldwide
Gets more bookings from
N/A
Payment questions
How much commission does the Channel require?
12% of the total booking
Does the Channel charge the client?
yes, their commission, total amount
Does the Channel issue invoices to the client?
yes
Does the Channel transfer monies to the owner?
always, 24 hours after arrival, via, PayPal, Bank Transfer
Does the Channel need an invoice from the owner?
no
Does the Channel send confirmations to the client?
yes, after inserting a booking, to communicate arrival details
cancellation questions
Which cancellation conditions does the Channel use?
their own
Does the Channel enforce the cancellation's conditions?
yes
Is the Channel's commission used as cancellation compensation?
never
Does the Channel allow you to decline bookings?
no
Download Masters of Distribution PDF with all this information.