eholiday.pl is the undisputed leader among accommodation booking sites in Poland.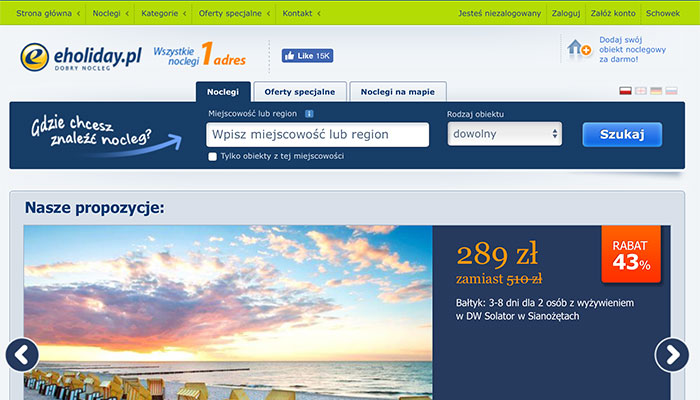 Who are they?
40 000 Polish owners trust eholiday.pl with their advertising, the site is visited by almost a million users per month and generates several million page views (PV) per month. IF you have a property in Poland this is the place to advertise it on. Just add eholidays.pl to your channel and follow the instructions. You will need to create an account and upload your rentals to their extranet. Guest payments are taken by you
What is synched?
Bookings
calendars
Prices
Photos
property info
Accepts rentals in
Poland
Gets more bookings from
N/A
Payment questions
How much commission does the Channel require?
9% of the total booking
Does the Channel charge the client?
no
Does the Channel send confirmations to the client?
yes, after inserting a booking
cancellation questions
Which cancellation conditions does the Channel use?
yours
Does the Channel enforce the cancellation's conditions?
no
Is the Channel's commission used as cancellation compensation?
never
Does the Channel allow you to decline bookings?
no
Download Masters of Distribution PDF with all this information.