Nexttrip.com offers its customers one ultimate place to look for instantly bookable alternative lodging.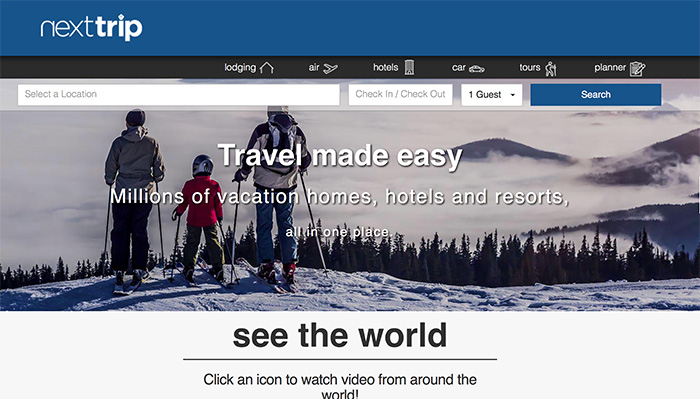 Who are they?
A customer can find their perfect vacation home, book instantly, and know they have their lodging 100% confirmed with the least amount of friction in the industry. In addition, NextTrip offers full concierge service for anyone who wants a little help with booking tours, tickets, hotels, and more. With an ever-growing number of properties worldwide, NextTrip is one of the easiest and fastest ways for vacationers and homeowners to purchase and list vacation homes
What is synched?
Bookings
calendars
Prices
Photos
property info
Accepts rentals in
Worldwide
Gets more bookings from
N/A
Payment questions
How much commission does the Channel require?
10% of the total booking minus cleaning
Does the Channel charge the client?
yes, their commission, pre-payment, total amount
Does the Channel issue invoices to the client?
yes
Does the Channel transfer monies to the owner?
always, 24 hours after arrival, via, PayPal, Bank Transfer
Does the Channel need an invoice from the owner?
no
Does the Channel send confirmations to the client?
yes, after inserting a booking
cancellation questions
Which cancellation conditions does the Channel use?
yours
Does the Channel enforce the cancellation's conditions?
yes
Is the Channel's commission used as cancellation compensation?
never
Does the Channel allow you to decline bookings?
no